Gypsum Byproduct Silo Cleaning
Issue: Material build up caused a lack of flow and decreased the material storage space.
This customer experienced a significant issue with product build up around the walls of their gypsum silo. The build up created a 'rat hole' down the center that allowed for some product flow, but it was very restrictive. In addition to the byproduct flow restriction, the silo's storage space was reduced by 75%, causing significant issues with production. The gypsum had to be removed more frequently, which resulted in a bottle neck in productivity.
USA Silo Service was brought in to use the latest technology in silo cleaning to return the silo to its designed capacity by removing the built up material. To loosen the hardened material in this silo, employees worked from the bottom up using the Boss cleaning machine to complete the job as quickly as possible. The silo had a conveyor system below the hopper that carried the material to dump trucks for final disposal.
In a matter of a few days the job was completed and the silo was back on-line. With the build up removed, this gypsum byproduct silo is now utilized to its full storage capacity. After the successful cleaning, the production cycle was returned to normal efficiencies and resulted in another satisfied customer.
Pictured below is the gypsum byproduct silo before cleaning. This image shows the view up into the silo from the discharge area, with a clear image of the 16 foot 'rat hole' running through the center of the silo. This 'rat hole' went up through the material for approximately 40 feet.
Multi-Discharge Hopper Clean-Out
Market: Energy
Material Stored: Fly Ash
Issue: Multi-discharge hopper clean-out for improved material flow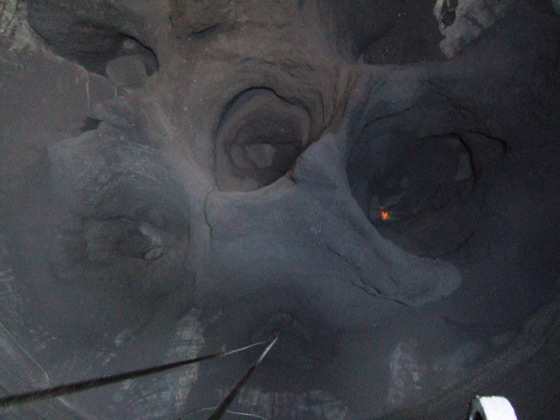 This customer reported fly ash build-up above the silo cone level. The example below illustrates voids commonly referred to as "rat holes" above the discharge points. Due to restricted material flow material built-up is slowed during discharge, restricting throughput and adding costs to the process due to delays. In addition, this condition can cause asymmetric flow ultimately detrimental to the silo wall. USA Silo Service used a proprietary method to force built up material down into the open discharge points at the cone. From this point another proprietary device was deployed to complete the cleaning process into cone without damaging the existing stainless steel liner.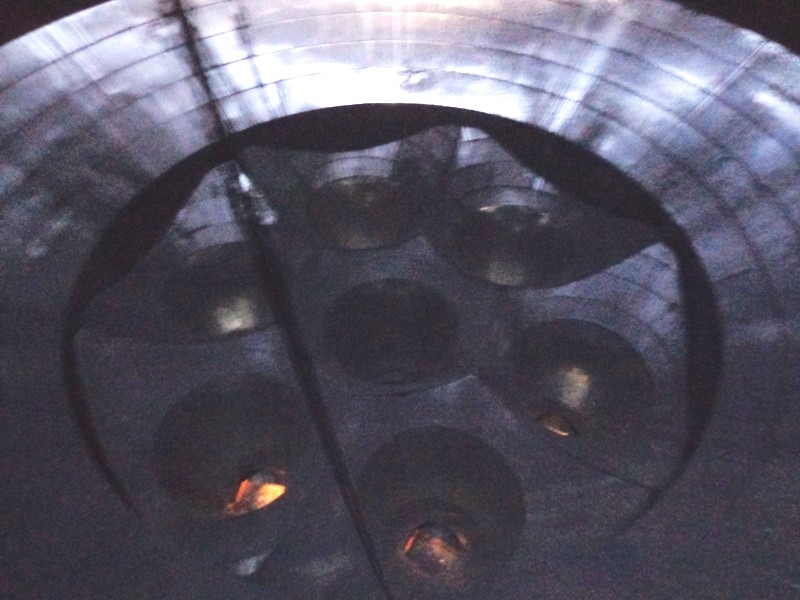 Illustrated here is the cleaned hopper showing discharge points completely free of any fly ash material or build up. By eliminating blockages the facility process is returned to maximum efficiency. This particular project represents fast, professional services managed by the USA Silo project management and field crews using proprietary equipment and cleaning methods.