Blog
Our Silo Cleaning Method
A clean silo is comparable to a clean bill of health. When a silo is working efficiently, it's successfully meeting production goals. If a silo gets clogged or blocked, production slows down immediately and an array of problems and issues become inevitable. Despite the problems that can arise from a poorly maintained silo, many postpone cleaning and often deem this required maintenance as unnecessary. They may also find
silo cleaning
expensive and not worth the potential loss of production downtime.
The fact is:
silo cleaning
is a cost savings benefit that removes buildup and recovers lost material, while maximizing production and profit.
Why Routine Silo Cleaning Matters
Hung up, clogged or slow running silos are a problem that will interfere with efficiency and profitability. Material buildup deters the silo from reaching its full capacity and we have seen many cases where material buildup and blockages only allowed for the silo to reach half of its capacity. Once a silo begins to lose flow, this accelerates the buildup over time and can lead to additional blockages. It is extremely important that the silo be cleaned professionally if material buildup or other issues are visible.
Professional Cleaning - Let Our Experts Do the Job
We are your resource for silo cleaning. No matter the type of silo (concrete, steel, flat or cone bottom, funnel or mass flow) or type of material stored (cement, clay, fly ash, grain products and more), we are your professional team of experts. Our specialists are also trained to respond quickly to emergency
silo cleaning
needs, although our goal is to eliminate emergency plant outages related to silo blockages entirely.
As soon as a partial blockage becomes apparent, it's necessary to schedule a cleaning. Our silo cleaning methods will:
Remove material buildup
Restore flow rates
Recover silo capacity
Prevent cross contamination
Reclaim lost material
The Boss - Silo Cleaning Equipment
Professional silo cleaning companies typically use a remote, dry cleaning system to remove stubborn material buildup. The most powerful system available in the U.S. is a unique clean-out head,
The Boss
, proprietary to USA Silo Service. The Boss removes the most material buildup in the least amount of time, making it the most efficient and cost-effective cleaning system available. It's many times more powerful than a whip cleaning machine and two-thirds more powerful than pneumatic cleaning systems.
The Boss is a unique clean-out head designed to accommodate variable attachments which are selected by our field crews to match the type of material being removed. Our
silo cleaning
technique includes operating in a systematic pattern within the silo to remove the toughest build-ups.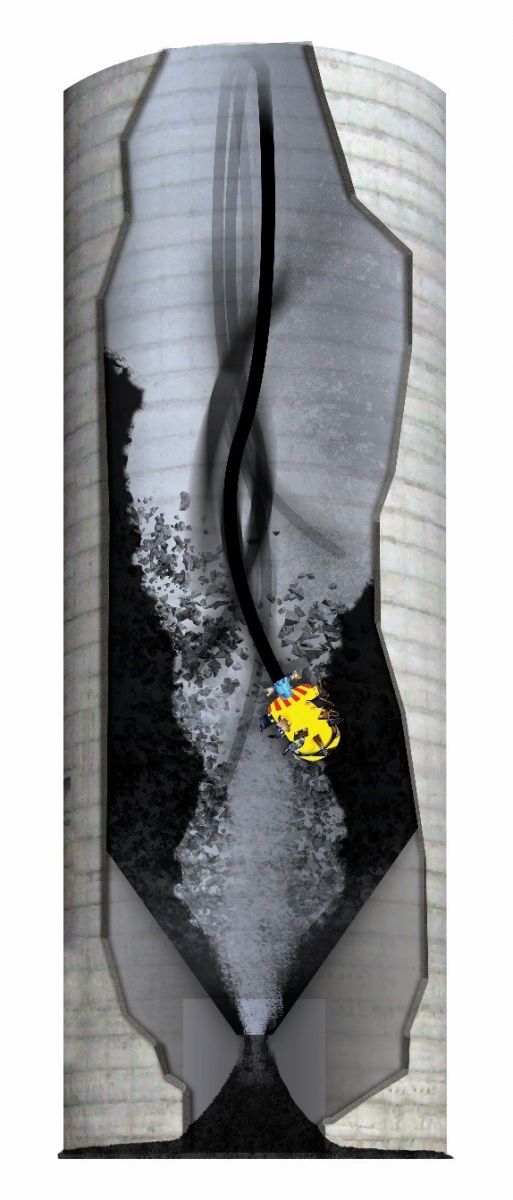 In fact,
The Boss
is 65% more powerful than other pneumatic systems. By removing more material faster and with more efficiency than any other clean-out method, including the whip system, The Boss accelerates the cleaning process. This minimizes downtime and out time on-site, providing immediate cost-savings.
Learn more about the advantages of The Boss cleaning system in the video below.
Our silo cleaning methods will save you the most time and money.