2020 Blogs
Construction, cone angles, and the type of stored material are all factors that influence how material moves through storage silos.
Funnel Flow
Funnel flow silos are usually more cost effective to construct, costing between 20-30% less than mass flow silos, but are not suitable for all materials.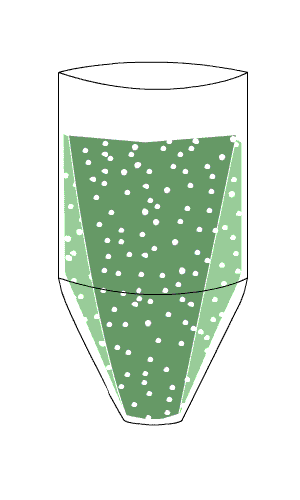 The flow channel drains material in the middle first. As the silo empties, side material flows into the middle channel. Because of this flow pattern, funnel flow silos that are not emptied completely on a regular basis keep stagnant, or dead, material against the silos walls. Without scheduled emptying, this causes material to build up along the silos walls and leads to issues like ratholing or irregular flow.
Taken together, these factors can enhance particle segregation, limit your live capacity, and cause silo failure. Generally, a funnel flow pattern is only suitable for coarse, free flowing, non-degrading solids when segregation is minimal.
Learn more about Funnel Flow Silos.
Mass Flow
Mass flow silos do not experience the same material flow issues as funnel flow silos. Stored materials move down the silo as a column, with no flow channels and the first materials in are the first materials out, providing for a uniform flow.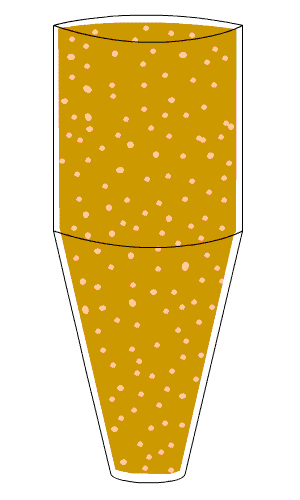 Mass flow is ideal for materials that are susceptible to segregation based on particle size or density, minimized by the first in, first out flow sequence, with the segregated particles remixing as they discharge. It is an ideal flow pattern for coal or other materials that are combustible or perishable.
Learn more about Mass Flow Silos.
Funnel flow and mass flow are common silo flow patterns. In addition to these two are expanded flow and fluidized flow patterns. Find out more about the different types of concrete silo flow patterns.
To learn more, be sure to check out our full library of videos on silo maintenance, inspection and repair on

---
The quality of your stored cement can be compromised by the conditions on top of and inside your cement silo. In fact, no matter the design or the materials stored, silos are susceptible to material flow issues. Material flow that is unimpeded by moisture or other issues is essential for smooth operations and the continued functionality of your silo.
To prevent stored cement from setting inside the silo due to moisture and humidity levels, the structure must be completely watertight. Even the smallest leaks in silo roofs and walls can damage your stored cement and result in material flow issues. Ambient humidity levels can also cause some materials to set. If you do aerate stored materials, it is essential to use an air dryer system to help lower the ambient humidity level in your silo. You should also avoid over aerating stored materials as excess aeration can pump unneeded moist air into the silo, which may lead to hydration of the cement. Hydrating occurs when moisture mixes with stored material and causes it to solidify within the silo (cement is highly susceptible to hydrating). When this happens, the cement can expand and cause added wall pressure, increasing the likelihood of structural failure.
Silo Maintenance Schedules
Verify during inspections that regular preventive maintenance measures are being followed. Essential maintenance includes exterior waterproof coatings and keeping your air pad and air stones in good operational condition. Silo maintenance should also include a routine professional cleaning and regular, complete silo emptying.
Of these measures, one of the most important is regular emptying. Silos that are regularly emptied and refilled are less likely to experience buildup issues that can be seen in silos that are kept topped off. Regularly emptied silos need professional cleaning less frequently and are less likely to experience problems, such as material compacting and hydrating.
The importance of inspecting your silo on a regular basis and making sure your structure is protected from the elements, especially the roof, is the focus of one of our recent case studies, which specifically examines a leaking concrete silo roof, with cement stored inside.
To learn more, be sure to check out our full library of silo inspection videos on silo maintenance, inspection and repair on

.
---
Concrete stave silos are constructed using precast concrete blocks, or staves, that interlock. Stave silos are reinforced with exterior, galvanized steel hoops which help compress walls and provide the necessary tension for structural integrity.
When it comes to the structural integrity of your concrete stave silo, it's important to look at the condition of the exterior wall and the exterior steel hoops. When inspecting your stave silo, you want to look specifically for cracks in the staves or bulges in the wall.
If you see cracks in the staves, you need to decide what kind of crack you're seeing. Here are the types to look for – horizontal, vertical, or diagonal cracks – or more severely, when you see an offset and it appears the wall is starting to move. The upper wall is pushing out over the lower wall above a horizontal crack.
If you have a crack and it's starting to move and expand, this is a sign of silo failure and it's time to call in the experts.
It's equally essential to look at the exterior steel hoops because they maintain the structural integrity of the silo; their stability is vital to the health and safety of the silo. The exterior hoops shouldn't be bent, broken, falling off or lying on the ground. It's also important to make sure the hoops aren't heavily corroded. Hoops are bolted together with a lug and the lug can be problematic if it beings to corrode. The hoops are tensioned to a specific rating and pressure so it's essential that the hoop has not been welded to and stands independently.
One of our recent case studies examines a cracking stave silo and provides further proof on the importance of keeping a proactive maintenance schedule which includes inspecting your silo regularly. Silo inspection is the most effective, preventative method to ensure the integrity of your concrete stave silo.
To learn more, be sure to check out our full library of silo inspection videos on silo maintenance, inspection and repair on

---